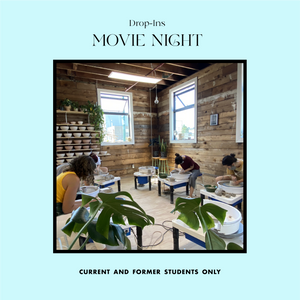 What can be more relaxing than 2.5 hrs of pottery and a movie? Exactly!
Two nights of your choice of wheel-throwing or hand-building. For wheel-throwing, your first day will be dedicated to throwing and the second night to trimming. For hand-building, you have 2 nights of straight building. All work will be glazed for you. 
This drop-in package will include building materials, 4lbs of clay, bisque and glaze firing. Clay will be available for purchase per pound if you're needing more.
Movie: 
 Night 1: Dazed and Confused | Director: Richard Linklater
 Night 2: Empire Records | Director: Allan Moyle