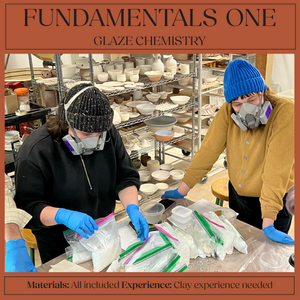 This class won't just be good... it'll be a-glazing!! Wilson is our resident glaze tech and he wants to teach you the ins and outs of this minor miracle.
Glaze chemistry is an essential aspect of ceramic art, enabling artists and enthusiasts to transform raw clay into vibrant, lustrous masterpieces.
In this 6 week workshop, students will delve deeper into the foundations of glaze chemistry. From understanding glaze equipment and critical glaze components, to learning how to read glaze recipes, graphs and make and modify them to achieve desired colours and effects, this class is a combination of both theory and hands-on studio tests. 

By the end of the Glaze Chemistry Class, participants will have a solid foundation in glaze formulation, allowing them to confidently create their own unique glazes and make informed choices when selecting commercial glazes. They will have acquired a deep understanding of the materials they work with, empowering them to unlock new artistic possibilities and push the boundaries of their ceramic creations.

For the duration of the workshop, students will be using test tiles to test their glazes on. Students will be provided P-100 filtration respirator while working with dry glaze materials.

Refund Policy
A full refund is available 7 days prior to class start. If cancellation is made less than seven days prior to class start, there will be a $75 cancellation fee that will be deducted from the paid registration fee.