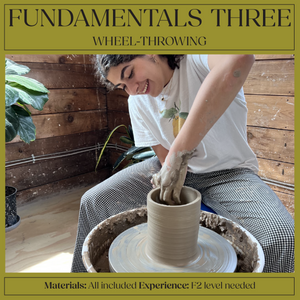 At this point you know what clay looks like, you've made some pretty OK things for
your in-laws and you're ready to make more, but bigger and badder.
You will spend a portion of the workshop really driving consistency. More balls of
clay, more wedging, more throwing. Cups, bowls, and plates are your best friends.
End of the workshop is spent completing your work, including trimming and
glazing.
The key to a great time and solid learning outcome is the class size, which remains
small, giving you lots of attention and proper guidance.
Refund Policy
A full refund is available 7 days prior to class start. If cancellation is made less than seven days prior to class start, there will be a $75 cancellation fee that will be deducted from the paid registration fee.